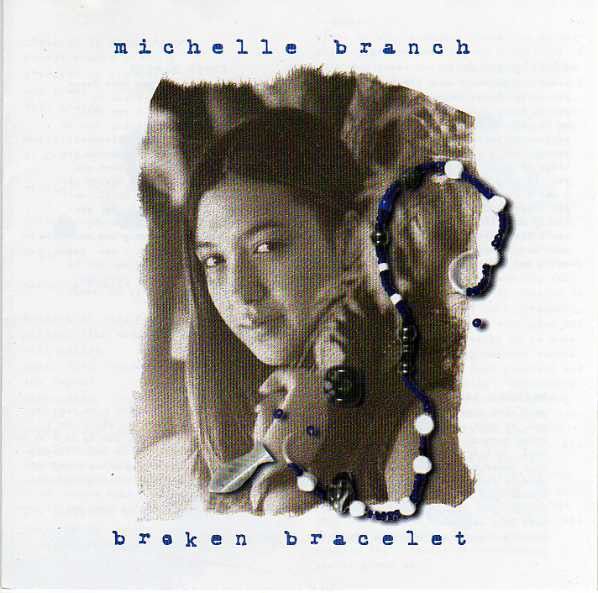 Michelle Branch's first record "Broken Bracelet"
It was the weekend of my fifteenth birthday, so this was early October in the year 2000.   
I was with my family in Sedona attending the Verde Valley Music Festival, which was the first music festival I'd ever been to. Jackson Browne had started it ten years prior to raise money for the Verde Valley School and its Native American Scholarship Fund. 
Browne played the festival. Keb Mo played. So did the Indigo Girls, Bruce Cockburn, Nanci Griffith, Trisha Yearwood, and a bunch of other people. Back then, I was into rap, metal, and pop-punk like a lot of young teens, so there was no way I could've appreciated the sounds that were coming at me. I remember having a good time, but that the music was incredibly boring.  
Then Michelle Branch got on stage. 
It was one of her very first shows, and I heard later that this show got her signed to Madonna's Maverick records, which was incredible to me. 
She had this blue guitar and wore shades that were too big for her face. She was from the area, too, a little hippie chick as some would say, and she was two years older than me, 17 to my 15, which when you are a teenager practically made her a grown-up. 
In any case, I looked up to her. I'd only been playing guitar for a couple of years, but she had these incredible songs that made me want to write pop songs. After her set, I approached her and introduced myself. I have no idea what the conversation was, but I was probably a babbling nerd, as I can be. 
I bought her CD, Broken Bracelet, and she signed it. I played it over and over until it scratched. It was fantastic! It was all of these acoustic songs, these folk pop songs, and it wasn't like anything I had heard, and it made it ten times cooler that she was from Northern Arizona like myself, and she'd produced it herself. I thought, "she's got it going on! I've got to do what she's doing!"
Somehow I got her email address, reached out to her, threw a bunch of praise her way, and told her I was trying to start a band. She wrote back and encouraged me, and when I responded I asked her about how to write lyrics. I sent her some of mine, and she kindly told me that they were shit. 
I was writing lyrics before I had set them to music, so these lines went on and on like rap lyrics because I listened to too much Eminem, something I'd gotten in big trouble for in middle school when a substitute teacher found my Eminem-esque handwritten lyrics making fun of our teachers. I don't remember what the words were, but I assure you by today's standards my thirteen-year old punk ass would be canceled immediately.
Anyways, she tore them apart and told me something along the lines that it would be difficult to set these lyrics to music in a way that could be communicated to a broad audience. They were too complicated and wordy. The music had to come first, she said, and then you feel the vibe of the music and the chords and then sounds just start coming and then the song comes, and you write it verse, chorus, verse, chorus, bridge, chorus, etc. you know, like you do.  
I was a little discouraged, but it flipped my switch on songwriting. It took me another two or three years before I could write a proper song, but my drive to nail one was all due to that chance meeting with Michelle at the Verde Valley Music Festival, sometime in October, 21 years ago. 
By the time I formed Gorky a couple of years later, Michelle had already gotten huge with her record The Spirit Room and collaborated with Santana. She was light-years ahead of me and still is, but I was admittedly disappointed in the direction she took then, both musically and visually, which had everything to do with the pop culture machine. 
When I met her, I didn't see a pop star. She was earthy and cool, and into Jewel's early records, which were great, and she was emanating that. That's what the "broken bracelet" was. It was something given to her by Jewel as a sort of talisman or totem, and when the bracelet finally broke, she went on to fulfill her destiny. 
Michelle was exactly like Jewel to me, maybe almost like Ani DiFranco when she gets catchy, even though she was playing "Goodbye To You" to a half-listening audience in Sedona.
I wish I still had my copy of that CD, but whatever the case, thanks for grilling me on my lyrics, Michelle. It paid off.   
- J