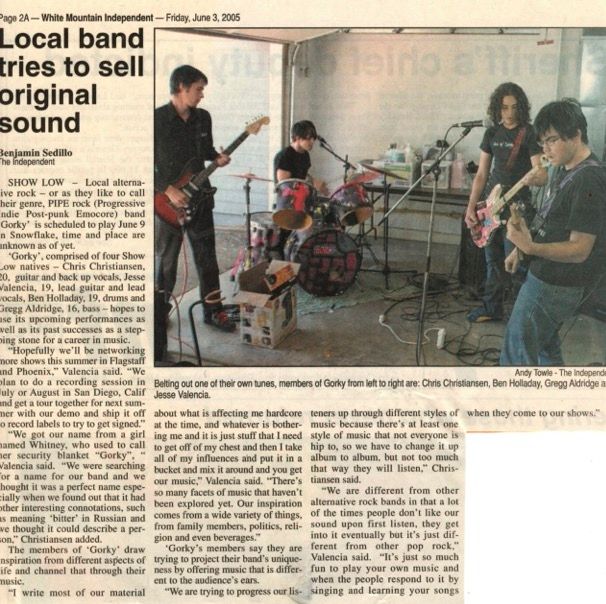 Found this while going through storage. Crazy! 

With our 20-year anniversary coming up, it's a good a time as any to reflect back on the history of the band. The text might be a little hard to read, so I've transcribed it here: 

Local Band Tries To Sell Original Sound, by Benjamin Sedillo 

SHOW LOW - Local alternative rock - or as they like to call their genre, PIPE rock (Progressive Indie Post-punk Emocore) band 'Gorky' is scheduled to play June 9 in Snowflake, time and place are unknown as of yet. 

'Gorky', comprised of four Show Low natives - Chris Christiansen, 20, guitar and back up vocals, Jesse Valencia, 19, lead guitar and lead vocals, Ben Holladay, 19, drums and Gregg Aldridge, 16, bass - hopes to use its upcoming performances as well as its past successes as a stepping stone for a career in music. 

"Hopefully we'll be networking more shows this summer in Flagstaff and Phoenix," Valencia said. "We plan to do a recording session in July or August in San Diego, California and get a tour together for next summer with our demo and ship it off to record labels to try to get signed."

"We got our name from a girl named Whitney, who used to call her security blanket 'gorky,'" Valencia said. "We were searching for a name for our band and we thought it was a perfect name especially when we found out that it had other interesting connotations, such as meaning 'bitter' in Russian and we thought it could describe a person," Christiansen added. 

The members of Gorky draw inspiration from different aspects of life and channel that through their music. 

"I write most of our material about what is affecting me hardcore at the time, and whatever is bothering me and it is just stuff that I need to get off my chest and then I take all of my influences and put it in a bucket and mix it around and you get our music," Valencia said. "There's so many facets of music that haven't been explored yet. Our inspiration comes from a wide variety of things, from family members, politics, religion and even beverages." 

Gorky's members say they are trying to protect their band's uniqueness by offering music that is different to the audience's ears. 

"We are trying to progress our listeners up through different styles of music because there's at least one style of music that not everyone is hip to, so we have to change it up album to album, but not too much that way they will listen," Christiansen said. 

"We are different from other alternative rock bands in that a lot of the times people don't like our sound upon first listen, they get into it eventually but it's just different from other pop rock," Valencia said. "It's just so much fun to play your own music and when the people respond to it by singing and learning your songs when they come to our shows."